Engineering Tasks Group, "ENTAG" was stablished in 1992. "ENTAG" is the first engineering and contracting firm in Egypt specialized in Solid Waste Management . "ENTAG" is owned by a group of environmental specialists who have high academic background in this field.
Engineering Tasks Group,"ENTAG"and the Egyptian Company for Solid Waste Recycling,"ECARU"are two sister companies, focusing on Design and manufacturing of solid waste recycling equipment, manufacturing of Organic compost, Biomass Derived Fuel , (BDF)and Refuse Derived Fuel, (RDF). as well as the Design, Construction and Management of Engineering Sanitary Landfills, Consultancy and Operation.
"ENTAG" ᾽s methodology is as follows:
Client Demand
Studies and Researches.
Design
Procurement
Manufacturing
Construction & Erection
Commissioning &Start-up
Training & Operation
"ENTAG"&"ECARU"group, designated as TAWAZON, is one of the platform of "Qalaa Holdings"umbrella,"Qalaa Holdings"is the leading investment company in Africa and the Middle East. "Qalaa Holdings"builds businesses in core industries that will define its region's future. The 40,000 employees of its core subsidiaries and other investments work each day to deliver energy to consumers and businesses alike; to provide reliable, fuel-efficient transportation solutions; to grow or manufacture safe, healthy food; to add value to natural resources; and to help build critical national infrastructure. "Qalaa Holdings"prizes innovation, value creation and sustainability in all its investments.
"ENTAG" &"ECARU" implemente a Quality Management System in conformity with the requirements of the international standard ISO 9001 QualityManagement, ISO 14001 in Environment and ISO 18001in Occupational Safety and Health.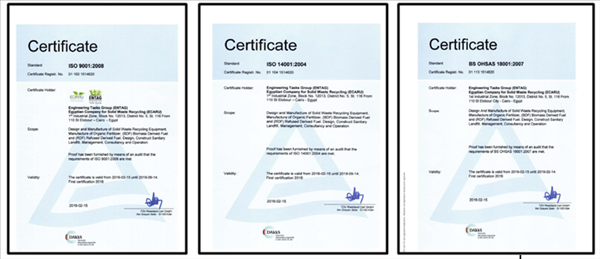 Chart no. (2): ISO certificates
"ENTAG"᾽s goal is to be at the highest level of performance in the fieldof integrated solid waste management and all related area.